FREE Kids Music Downloads
Yes Free!
Legal Too!
Here are a few free kid music downloads that I laid down for you all. You have my permission to do anything non-commercial you want. Burn these children's songs to CD, rip them, copy as many times as you like, give to everyone you know, P2P share it, sample it, loop it, put it to beats, synch it to your home movies, include it in your animations, do school plays with it or anything else you like. Give me credit when you can and be sure to contact me before doing any commercial projects. This is a license to use only. I retain the complete bundle of rights. Thanks.

Free kid song download #1
The ABC Song
Free kid song download #2
Itsy Bitsy Spider
Free kid song download #3
Hey Diddle Diddle

Free kid song download #4
Chickens

Free kid song download #5
Tale of the Gingerbread Man

iTunes Top 12 Kid Song Downloads
| | | | |
| --- | --- | --- | --- |
| You are my sunshine | | Old MacDonald | |
| I love to See You Smile | | Ladybug Picnic | |
| Bicycle Built for Two | | Baby Beluga | |
| Wheels on the Bus | | Frog Went a Courtin' | |
| Candyman Blues | | This Little Light of Mine | |
| All You Need is Love | | Itsy Bitsy Spider | |
I am sailing
I am Sailing, I am Sailing,
Home again cross the sea.
I am Sailing, stormy waters,
To be near you, to be free.

I am flying, I am flying,
Like a bird cross the sky.
I am flying, passing high clouds,
To be with you, to be free.

Can you hear me, can you hear me
Thro the dark night, far away,
I am dying, forever crying,
To be with you, who can say.

Can you hear me, can you hear me,
Thro the dark night far away.
I am dying, forever crying,
To be with you, who can say.

We are Sailing, we are Sailing
Home again cross the sea.
We are Sailing stormy waters,
To be near you, to be free.

Oh lord, to be near you, to be free.
Oh lord, to be near you, to be free,
Oh lord.


Free ABC Song Mp3 Download: Traditional ABC


I have received many emails from teachers who like this version of the ABC Song because it is slow and easy for beginners. I have been using it in classes with students from 1 to 10 years old for over a year now. It is also one of the most downloaded of the Dream English Free Downloads!


Click to download The Dream English ABC Song Mp3 for Free!

Free Printables:
A to Z Alphabet/Phonics Cards: Printable alphabet/phonics cards from A to Z with big and small letters. Great for practicing the ABC's!

Practice writing the letters of the alphabet and draw a picture that starts with that letter. I recommend this for younger students. It can be a fun exercise to pick the first letter of your students name and start from there, or just start from the letter A. You can either bring in a real object that starts with the letter, or use a book or flashcard as an example. Click on the letter to open the page to view and print the file:

A, B, C, D, E, F,G, H, I,J, K, L,M, N, O, P, Q, R, S, T, U, V, W, X, Y, Z,

Writing practice worksheets: These worksheets cover the whole alphabet A to Z on one sheet of paper. One set has arrows to show which directions to write, the other has no arrows.

Writing Worksheet 1 -With Guide Arrows
Writing Worksheet 2-No Arrows



Days of the Week Chant Free Download

I use this chant for students from six years old on, because I think it is more relevant for them. We practice this chant, then I take turns asking the students, "What day is it today? What day was it yesterday?" and so on. An easy game is to have the students write the days of the week on some paper, then cut them into individual strips. Next, make teams and ask the students to put the days of the week in order. Who ever does it the fastest wins!
The best way to use these chants is to practice the vocabulary a few times without the chant, and then play the chant for the students. I have flashcards below you can download and use while practicing. I added some singing in the middle so the chant is more fun. This chant is part of the "Say Hello!" chant series. See below for lyrics. Enjoy.
(Copyright 2008 Dream English)

Dream English Hello Song! Hello, Hello, Hello!


This is a fun song to get your classes started. It teaches the kids to say hello, make a circle, clap hands, and walk around in a circle! Simply play the song and do the actions and sing with your students. You may want to teach them the actions before you start the song. If you are teaching very young kids (1-4 years old) don't worry if they don't sing along, just have fun. If you are teaching a large class, you can also seperate the kids into groups to sing the song. If you want, direct their parents to this website and they can practice the song at home! It will make them have even more fun when you sing the song in class. See below for the lyrics.

Click here to download a free mp3 of the "Hello Song"
(Song written and recorded by Matt R. copyright Dream English)
Free Mp3 Download Body Parts: Head, Shoulders, Knees and Toes!
This is a fun, easy dance and song for young children. Simply listen to the song and touch the body part you hear in the song. I have been using this traditional kids song as a warm up for a few years now. Kids will love, this fun version that speeds up and slows down. Lyrics, free mp3 download, flashcards and fun game idea below.

Body Parts Song: Head, Shoulders, Knees and Toes!



Free Phonics Chant Mp3's, Writing Worksheets, and Flashcards

Phonics are defined as a way of teaching reading and spelling that stresses symbol-sound relationships, used especially in beginning instruction. I use phonics practice with my students from 2 years old all the way to adults. I learned how to read in the U.S.A with phonics, so I really believe it can give a solid foundation of what the letters sound like. For example, A sounds like ahh. Of course there are many exceptions to this, and I recommend not relying completely on phonics to get children to read, but it is a great starting point.

I have 2 Chants for practicing phonics. The first chant is the basic phonic sounds from A to Z, the second chant contains words that start with the phonic sounds. The second chant also cooresponds to My First Handwriting Book, which you can download below.


1. ABC Phonics Chant 1: Phonic sounds A to Z
- Letter Name first then Phonics Sound
2. ABC Phonics Chant 2: Phonics Sound Only! Try Me!
3. ABC Phonics Chant 2: A-apple, B-bird, etc.
I originally thought my
free phonics materials
were what people might be looking for. However, most people come for flash cards and I spent a lot of time getting those up and I have recently began paying more attention to this section. There are
phonics worksheets, phonics posters, flash cards for introduction, coloring sheets, game cards, handouts, worksheet makers
and more.
English as a foreign language
and especially in Japan where the Roman alphabet itself is foreign. I start out with a phonics only system moving children slowly through hard
consonants/short vowels, blends
(as those are the most difficult for Japanese students,)
long vowels (silent e,) and consonant digraphs
. Once they've got those down we begin
vowel combinations
, and that pretty much gets the reading ball rolling. I follow with
r-controlled vowels and Dolch sight words
. Those are the first steps I take and the order is debatable. I hope to get a more information up as time permits. For young learners (4yrs-6yrs) I do a letter of the day to start them off. They say the letter and then learn 2 words that start with that letter. I then repeat the
alphabet
focusing on
lower case
and have them recall 2 words that start with that letter and then teach them the reading. For young learners (6yrs+) I start them off with both 2 words and the letter's reading. I spend about 5 minutes each lesson on this and it breaks up the class nicely as a transient portion of the lesson.
See the left hand menu for a list of the currently available downloads
.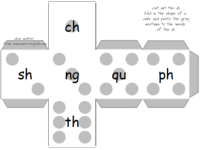 Some new and exciting phonics materials are on their way. The first of which come from my new site Tools for Educators.com. You can
create printable phonics game boards, phonics board games, phonics dice, reading worksheets, writing worksheets, spelling worksheets, tracing worksheets
.

I will be posting as time permits so check back for updates. As always, emails about questions, comments, encouragement, broken links or file problem are very much welcomed.




English Songs

Read them to your pupils English Songs English Songs here are more songs,